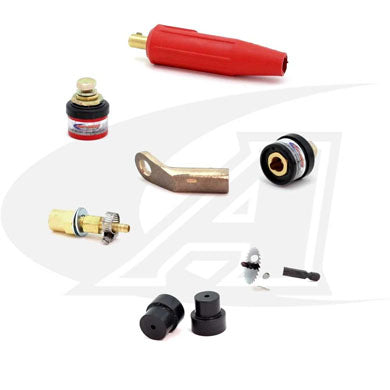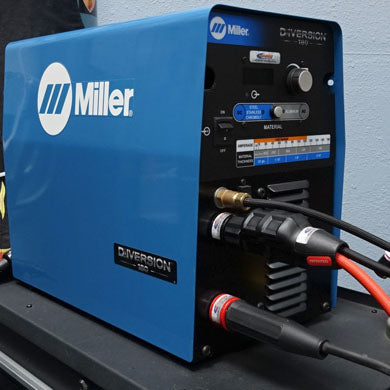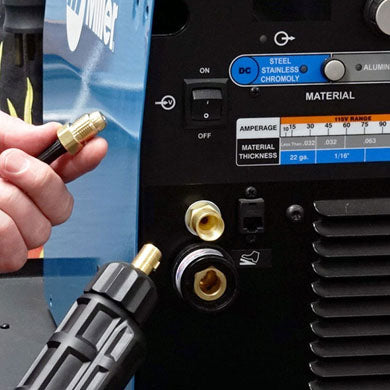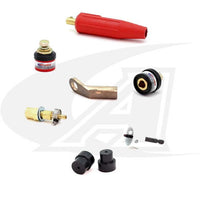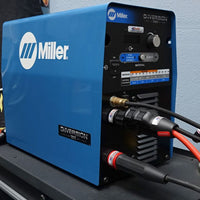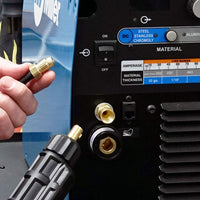 Miller Diversion TIG Torch Upgrade Kit
Regular

$199.00
Sale

$199.00

Regular
Unit Price

per
Miller® Diversion™ 165, 180 & Hobart® EZ-TIG 165i Air-Cooled TIG Torch Update Kit from Arc-Zone
Now available from Canada Welding Supply! 
Update the Power and Work Lead connections on your Miller Diversion machine and benefit from improved performance and greatly expand your welding capabilities.
Enjoy the benefits of a high-performance Air or Water-Cooled TIG torch! Miller® Diversion machines come from the factory with a contractor style 17 (3 series) 12.5' (3.8m) TIG Torch and spindly Work Lead that is "hard-wired" to the Machine. What's more the OEM torch is bulky and cumbersome which greatly reduces the machines versatility, performance, and your ability to comfortably manipulate the torch which is critical to high-quality TIG welding.
The JW Signature Series Upgrade Kit makes it easy for you to install Large Dinse style TIG Power and Work Lead connections (50mm Dinse). The conversion is simple, and can be done in a few minutes with our complete upgrade kit and standard shop tools.
Kit Includes:
1ea. Female Dinse Panel Mount (black) TIG Torch Receptacle
1ea. Female Dinse Panel Mount (red) Work Lead Receptacle
1ea. Male Dinse (red) Work Lead Connector
2ea. Hole Saw Guide Bushings
1ea. 30mm Hole Saw
All related mounting hardware and accessories
Air or Water-cooled TIG Torch connector sold separately
Installation Instructions:
Step #1.

 

Turn Off Machine's Power Switch and UNPLUG THE POWER CORD!
Step #2.

 

Remove the machine cover, factory-installed TIG Torch and work lead connector and strain relief(s).

 

Save the covered Work Lead cable with Eyelet Connector.
Step #3.

 

Cut the covered Work Lead (opposite the Eyelet Connector) so you have 12" of work lead cable. This will be your new Internal Work Lead connection to the (red) Panel Connector.
Step #4.

 

Strip the end of the covered Work Lead (opposite end of the Eyelet Connector) and connect the Arc-Zone supplied 45 degree angle connector.
Step #5.

 

Using the Arc-Zone supplied hole saw drilling kit, enlarge the two existing holes in the machine's front panel to 30mm.
Step #6.

 

File a 1/4" x 1/4" (6.4mm) "keyway" relief into the enlarged the 30mm holes (it's best to locate each relief at the "6 o-clock" position) on the chassis of your machine. This allows the New Female Panel Receptacles to nest properly and keeps them from rotating. If you do not perform steps 5 & 6, you could have the Welding current in direct contact with the machines chassis.
Step #7.

 

Disassemble the Black and Red panel Mount Receptacles and insure that they fit into the holes on the machines front panel.
Note: There is an insulator for the inside and outside of the machine chassis, and both have a 1/4" (6.4mm) notch that must be lined up during assembly.
Step #8.

 

Install TIG torch panel mount connector, (Black) into Upper Hole in machine face, with flat and lock washer so as to sandwich the machine's power eyelet. Tighten as needed.
Step #9.

 

Install Work Lead panel mount connector, (Red) into Lower Hole in machine face. Tighten as needed.
Step #10.

 

Tighten the Work Lead eyelet connectors to the mother board and the Lower (Red) Panel Connector.
Step #11.

 

Verify that all connections are tight and Re-install the machine cover.
Complete your upgrade with a new high-performance TIG torch! Select the torch and amperage that best fits your application.
Enjoy your upgraded Diversion, and good welding!